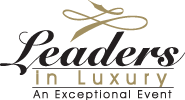 LIL 2013 Registration
Registration is open to CLHMS and Million Dollar Guild members.
Registration may be open to other agents actively working the luxury market on a limited basis,
by invitation only.
$995
CLHMS and Guild members login to register
For more information contact:
Amanda Hammer
Training and Membership Director
(214) 485-3000
amanda@luxuryhomemarketing.com
The printed program goes to press on October 11th. Attendees who register after the 11th will not appear in the printed program.