Not all agents are equal
Institute Members Are Trained to Work in Luxury Real Estate.
The Institute for Luxury Home Marketing exists to help buyers and sellers of luxury homes and estates find real estate professionals with the knowledge, skills, and expertise to support their unique needs. Our members specialize in the luxury home market and have completed extensive training to build additional competencies.
Members of The Institute also have access to exclusive market insights and the latest marketing strategies, enabling them to stay on top of changing market conditions and offer effective plans to sell luxury properties. This insight and specialized knowledge makes our members, especially those who have earned the Certified Luxury Home Market Specialist™ (CLHMS) designation, the best agent choice for affluent buyers and sellers of luxury residential properties.
Select the Right Agent
Successfully buying or selling a luxury home starts with selecting the real estate professional that can best assist you. Not all agents operate effectively in the upper-tier market, a segment that requires special competencies and marketing expertise. Here are five tips for choosing an agent in the luxury real estate market.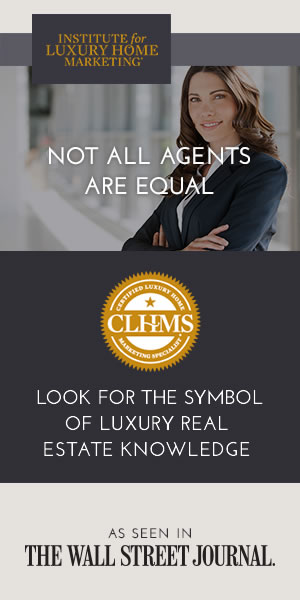 Mary Mastro
Keller Williams Realty Select

Beth and I sincerely thank you for your dedication to us in our home sale. You truly are the consummate professional in your field. Your no nonsense approach and respect for our intelligence was a breadth of fresh air, and your guidance, direction, and marketing efforts produce results! We honest...
Lynn Lord
RE/MAX Estate Properties

Lynn doesn't know how to talk. Anybody can talk. Lynn COMMUNICATES. With Lynn there is an actual EXCHANGE; what communication means, truly. Whenever I met a real estate person, they were focused on "letting me know", "talking to me" about the features of this house or that house. They never reall...
Ruddy Arevalo
Miami New Realty / Bienvenido A Florida

Working with Rudy Arevalo has been amazing; she's very honest, resourceful and creative, super-fast in answering my questions, she does and outstanding job, I truly feel that Rudy is a great agent and I recommend her for anyone who needs one.