Not all agents are equal
Institute Members Are Trained to Work in Luxury Real Estate.
The Institute for Luxury Home Marketing exists to help buyers and sellers of luxury homes and estates find real estate professionals with the knowledge, skills, and expertise to support their unique needs. Our members specialize in the luxury home market and have completed extensive training to build additional competencies.
Members of The Institute also have access to exclusive market insights and the latest marketing strategies, enabling them to stay on top of changing market conditions and offer effective plans to sell luxury properties. This insight and specialized knowledge makes our members, especially those who have earned the Certified Luxury Home Market Specialist™ (CLHMS) designation, the best agent choice for affluent buyers and sellers of luxury residential properties.
Select the Right Agent
Successfully buying or selling a luxury home starts with selecting the real estate professional that can best assist you. Not all agents operate effectively in the upper-tier market, a segment that requires special competencies and marketing expertise. Here are five tips for choosing an agent in the luxury real estate market.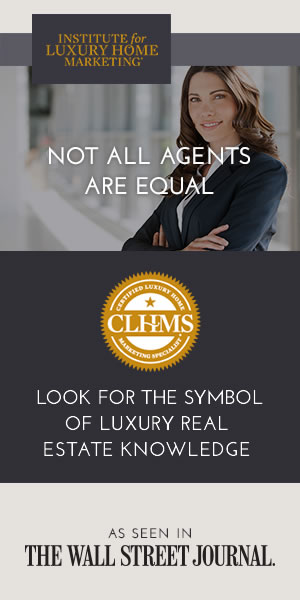 We were first time vacation home buyers 3 years ago when we came looking for a 2nd home in Marco Island, FL. We were referred to Bartos Group from a close friend of ours. We have bought and sold other properties (our primary home), so we were used to working with realtors. There nothing with our ...
Robin Kencel
Compass
The Robin Kencel Group

Robin knows the Greenwich market extremely well and she was able to provide good advice on preparing the home for sale as well as contacts that helped in the preparation process. She developed a excellent pricing strategy for the property, which led to offers in a very short time frame and result...
June Lunn
Keller Williams Realty

"We cannot begin to express to you how pleased we are with our new home. Not only were you keenly astute in knowing our needs and what would appeal to us but your professionalism, knowledge and expertise of the market and every other phase of the process has made the search and the closing a smoo...