Not all agents are equal
Institute Members Are Trained to Work in Luxury Real Estate.
The Institute for Luxury Home Marketing exists to help buyers and sellers of luxury homes and estates find real estate professionals with the knowledge, skills, and expertise to support their unique needs. Our members specialize in the luxury home market and have completed extensive training to build additional competencies.
Members of The Institute also have access to exclusive market insights and the latest marketing strategies, enabling them to stay on top of changing market conditions and offer effective plans to sell luxury properties. This insight and specialized knowledge makes our members, especially those who have earned the Certified Luxury Home Market Specialist™ (CLHMS) designation, the best agent choice for affluent buyers and sellers of luxury residential properties.
Select the Right Agent
Successfully buying or selling a luxury home starts with selecting the real estate professional that can best assist you. Not all agents operate effectively in the upper-tier market, a segment that requires special competencies and marketing expertise. Here are five tips for choosing an agent in the luxury real estate market.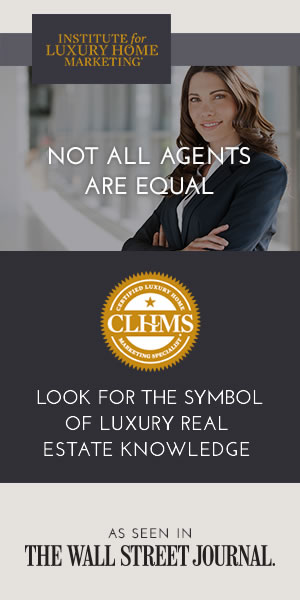 Elizabeth Dyer
Turner Real Estate Partners Ltd.

We purchased our first home with Elizabeth a little less than 2 years ago and when it came time to sell and move to a bigger home we knew Elizabeth would handle it with professionalism and enthusiasm. She sold our home in less than 7 days and at $26,000 over list! We will definitely recommend E...
Kim was INCREDIBLE to work with from the very beginning, to the very end, and even after. Her communication is fantastic in terms of both efficiency and clarity. I have never had an experience where something with so many logistics and paperwork, was so easy.
Lucille Gioia
Nationwide Realty International

Lucille Gioia listed our oceanfront condo for $2,000,000+ in Boca Raton and sold it at a most inopportune time: a depressed luxury real estate market along with an aging building that was undergoing major renovations. This was an achievement! She was amazing! Lucille's exhibits professionalism an...