Not all agents are equal
Institute Members Are Trained to Work in Luxury Real Estate.
The Institute for Luxury Home Marketing exists to help buyers and sellers of luxury homes and estates find real estate professionals with the knowledge, skills, and expertise to support their unique needs. Our members specialize in the luxury home market and have completed extensive training to build additional competencies.
Members of The Institute also have access to exclusive market insights and the latest marketing strategies, enabling them to stay on top of changing market conditions and offer effective plans to sell luxury properties. This insight and specialized knowledge makes our members, especially those who have earned the Certified Luxury Home Market Specialist™ (CLHMS) designation, the best agent choice for affluent buyers and sellers of luxury residential properties.
Select the Right Agent
Successfully buying or selling a luxury home starts with selecting the real estate professional that can best assist you. Not all agents operate effectively in the upper-tier market, a segment that requires special competencies and marketing expertise. Here are five tips for choosing an agent in the luxury real estate market.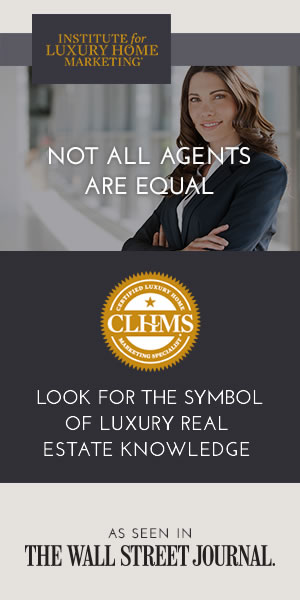 Martin Miller
Windermere Professional Partners
Miller Luxury Group

Martin assisted us with both the sale of our home and the purchase of our new one. He made the process smooth, helped us in so many big and little ways, I could not even begin to list them all.I think one of the best things Martin has to offer is his enthusiasm- his enthusiasm for the area, the ...
Sandy Pickett
Keller Williams Realty McLean
The Pickett Group, LLC

Working with Sandy Pickett in our last 3 real estate transactions has been and absolute pleasure.Sandy is the consummate real estate professional, an exceptional advocate and has been a trusted advisor in meeting all of our real estate needs.Upon relocating to the Washington D.C. area in 2015 fro...
Meredith Levine
Levine & Co. Real Estate Brokerage LLC

Very knowledgeable and driven Realtor. Meredith is the type of person that does not let an issue fall through the cracks. She takes care of small issues that you might not think of. Highly recommended.