Not all agents are equal
Institute Members Are Trained to Work in Luxury Real Estate.
The Institute for Luxury Home Marketing exists to help buyers and sellers of luxury homes and estates find real estate professionals with the knowledge, skills, and expertise to support their unique needs. Our members specialize in the luxury home market and have completed extensive training to build additional competencies.
Members of The Institute also have access to exclusive market insights and the latest marketing strategies, enabling them to stay on top of changing market conditions and offer effective plans to sell luxury properties. This insight and specialized knowledge makes our members, especially those who have earned the Certified Luxury Home Market Specialist™ (CLHMS) designation, the best agent choice for affluent buyers and sellers of luxury residential properties.
Select the Right Agent
Successfully buying or selling a luxury home starts with selecting the real estate professional that can best assist you. Not all agents operate effectively in the upper-tier market, a segment that requires special competencies and marketing expertise. Here are five tips for choosing an agent in the luxury real estate market.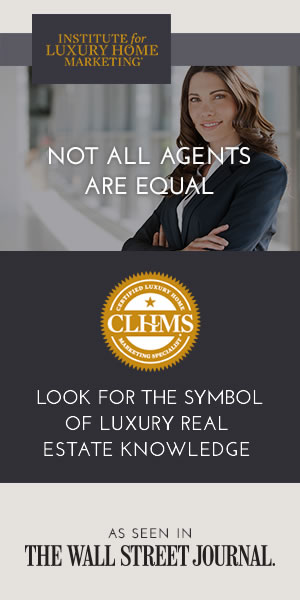 Ann Marie Nugent
Pacific Union / Christie's International Real Estate
The Bay Area Team

We are grateful for your constant attention to the details of selling our Danville home setting a record price in our community. We are having the time of our lives in the country property you helped us purchase as our next home. We never imagined how it would turn out – living our long time d...
Michael Kelly
Hickory Real Estate Group Inc.

We had a wonderful experience working with Mike as our Real Estate Agent. As discriminating and very picky buyers, my wife and I met with five agents before meeting with Mike. We were immediately impressed with his knowledge of the local markets, his calm, laid back demeanor (I tend to get very p...
"Sandra, It was a true pleasure meeting you and thank you all for all your help in selling and buying our homes. You definitely go above and beyond… Keep in touch, Love Rich and Linda"