Not all agents are equal
Institute Members Are Trained to Work in Luxury Real Estate.
The Institute for Luxury Home Marketing exists to help buyers and sellers of luxury homes and estates find real estate professionals with the knowledge, skills, and expertise to support their unique needs. Our members specialize in the luxury home market and have completed extensive training to build additional competencies.
Members of The Institute also have access to exclusive market insights and the latest marketing strategies, enabling them to stay on top of changing market conditions and offer effective plans to sell luxury properties. This insight and specialized knowledge makes our members, especially those who have earned the Certified Luxury Home Market Specialist™ (CLHMS) designation, the best agent choice for affluent buyers and sellers of luxury residential properties.
Select the Right Agent
Successfully buying or selling a luxury home starts with selecting the real estate professional that can best assist you. Not all agents operate effectively in the upper-tier market, a segment that requires special competencies and marketing expertise. Here are five tips for choosing an agent in the luxury real estate market.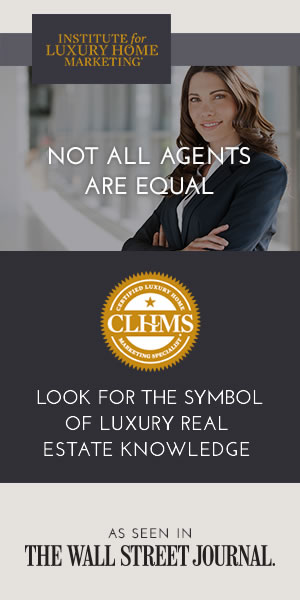 We cannot say enough amazing things about Cheryl! Hands down the best realtor we have and will ever work with! Her attention to detail and dedication to each client is nothing short of amazing! Thanks for coaching us through all of these difficult adulting events and providing so much reassurance...
Roberta Baldwin
Keller Williams NJ Metro Group

"Roberta has been my Realtor over 3 transactions, including 2 luxury homes, with exceptional outcomes each time. As a listing agent, she staged two of my homes and positioned them so we got multiple offers. As a buyer's agent, she helped me find a terrific house without making me feel as if I'd p...
Boyd Rowsell
Manor Hill Realty Inc.
The Boyd Rowsell Team

There is only one word to describe The Boyd Rowsell team at Manor Hill Realty - AMAZING! This was the second time we acquired services from Boyd. As a first-time buyer, Boyd not only helped us purchase our home, but more importantly, explained the process from start to finish. This made our deci...