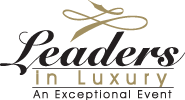 October 28-30, 2013
Four Seasons Hotel
Seattle, WA
For more information contact Amanda Hammer at (214) 485-3000.
The Institute is celebrating its 10th anniversary in 2013!
This year's Leaders in Luxury is guaranteed to be the best ever and that's saying a lot.
Come celebrate with us!
You'll want to attend every minute of this meeting.
Property Tour, Networking, Celebratory Dinner. We'll start with a luxury property tour on Monday, followed by a networking cocktail event where you'll have an opportunity to visit with top luxury professionals from the U.S. and Canada. Then enjoy a festive Awards Dinner where Institute Marketing Awards will be presented.
Great Speakers, Powerful Information and Ideas. Just to give you a hint or two about the kind of the top--notch speakers you can expect:
Institute member Ken DeLeon, the number one luxury agent in the U.S. in 2012 with $275 million in sales, will have more ideas and inspiration to share. Attendees loved his presentation (and his dancing) last year and said, "Please, please have Ken back!"
Patrick Lilly, a top-tier professional with Corcoran in New York City, has the absolute best tips ever for working with luxury expireds and will share them with you. Bring lots of paper to take notes.
A Nordstrom surprise! We can't go to Seattle without doing something special at Nordstrom. Shopping? Well, YES, but we have something really exciting planned at the store as well. And of course during the program, you'll hear from Brian Dennehy, Nordstrom's Chief Marketing Officer on how the retailer remains focused on improving customer service to differentiate themselves as a store of choice for customers - ideas you can use in your business.
And so much more!