Not all agents are equal
Institute Members Are Trained to Work in Luxury Real Estate.
The Institute for Luxury Home Marketing exists to help buyers and sellers of luxury homes and estates find real estate professionals with the knowledge, skills, and expertise to support their unique needs. Our members specialize in the luxury home market and have completed extensive training to build additional competencies.
Members of The Institute also have access to exclusive market insights and the latest marketing strategies, enabling them to stay on top of changing market conditions and offer effective plans to sell luxury properties. This insight and specialized knowledge makes our members, especially those who have earned the Certified Luxury Home Market Specialist™ (CLHMS) designation, the best agent choice for affluent buyers and sellers of luxury residential properties.
Select the Right Agent
Successfully buying or selling a luxury home starts with selecting the real estate professional that can best assist you. Not all agents operate effectively in the upper-tier market, a segment that requires special competencies and marketing expertise. Here are five tips for choosing an agent in the luxury real estate market.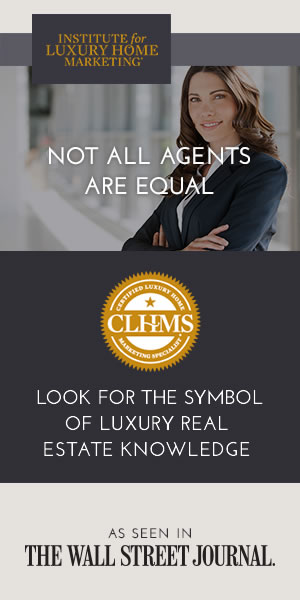 Andree Huffine
Coldwell Banker Residential Real Estate

Hey Andree, Jon and I just wanted to thank you for the following: being patient, persevering, not being judgmental, being chill, being on time, having extensive knowledge, not reminding us about what we already know, having good taste in lunch choices, following up, doing paper work, doing leg wo...
Lisa Follows
RE/MAX Jazz Inc., Brokerage
Williams and Follows

"Your service was amazing! The fact that you went the extra mile and helped out with assessment of our private sale brought it over the top. Thank you to you and Keith very much." Best regards!
Judy Kemble
John R. Wood Properties

Judy found us a wonderful waterfront home at a great price. We are able to keep our boat in the backyard and walk across the street to the beach.