Choosing a Luxury Designation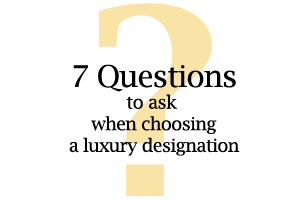 Seven Questions
Was the designation training developed by a luxury home expert?
Anyone can "write" a training course. The Institute for Luxury Home Marketing's training will help you take your luxury business to the next level because it was developed by an expert.
Institute Founder Laurie Moore-Moore has been in real estate since 1976 and has trained 12,000 top luxury home agents over the past decade. Unique Homes selected her as one of the "35 Top Leaders in Luxury," The Chicago Tribune calls her "The Luxury Home Diva," and The Real Estate Intelligence Report selected her as one of the top 10 people having the most impact on the real estate industry in the past 25 years.
Laurie's book Rich Buyer, Rich Seller: The Real Estate Agents' Guide to Marketing Luxury Homes, is so in demand that agents have paid up to $125 on e-Bay for a used copy!
Don't do that - we'll give you a FREE copy at the training session.
Laurie personally developed the training program and updates it constantly. You won't learn the same real world skills elsewhere. Don't settle for less.
Are the trainers teachers or true luxury market experts?
Each Institute training class is taught by Laurie or by very successful luxury home agents who understand the business and also have great presentation skills. Why not learn from the best in the business?
What do agents who've taken the course and associations that have hosted the course have to say about it?
"After completing my recent training with you in Miami, I went out on not one, but two listing presentations on homes over 19,000 sq. ft. The valuable information I received helped me secure both listings. One is listing at $4.9 million and the second is listing at $10.8 million. Thank you so much!"
– Danny Veal, Orlando FL
"We held our first Certified Luxury Home Marketing Specialist training session in 2003. It was such a BIG success that we now offer it three times a year! We attract attendees from across the country, and even internationally. The course gets rave reviews and our members love the benefits gained from this valuable training. If you're not offering the Certified Luxury Home Marketing Specialist course in your marketplace, you're missing the boat!"
– Maureen Levine, Vice President of Member Relations, The REALTOR Association of Greater Miami and The Beaches
"Great and inspiring training!"
– Patricia Choi, Choi Realty, Inc., Honolulu, HI
"We're synonymous with luxury, so Institute membership and training was a perfect fit. The training helped us get a new slant on what's happening in today's market. One of the things we're doing differently is gathering more information about the marketplace and luxury market segments as opposed to acting off the top of our heads. We're also presenting information to clients in more visually effective ways. Another good thing is that you can take tips you've learned from luxury marketing and apply them to other properties."
– Shari Chase, Chase International, Lake Tahoe and London
"Thank you for lending your keen knowledge and experience about luxury real estate sales to the agents at John L. Scott Real Estate. Given the opportunity, I will recommend your class to others without hesitation."
– J. Lennox Scott, Chairman and CEO, John L. Scott Real Estate, Washington/Oregon/Idaho
"In 29 years as a real estate agent, owner, manager, this is the best course I've taken with the best, specific, practical information to improve my business."
– Russell P. Long, Long Realty, Tucson, AZ
Does the designation have credibility?
The Institute's Certified Luxury Home Marketing Specialist (CLHMS) designation is the first international luxury home designation to be offered to real estate professionals regardless of their company affiliation. Several national real estate firms have made CLHMS their official designation. Brokerage firms and REALTOR associations across the country host our training so their associates and members can earn the CLHMS designation. Many states grant continuing education credit for our course. Consumers are beginning to show a preference for Institute members.
The buzz about this designation is so positive that real estate professionals from around the globe travel to the US just to attend The Institute's designation training.
Is it a true LUXURY designation?
To earn the CLHMS designation, an agent must successfully list and/or sell luxury properties in the top 10% of his or her market area (as defined by the area's sales prices in the most recent 12 months). Homes that are priced below $500,000 will not be considered for the designation, even if the top 10% of that particular market is below the $500,000 minimum.
Are there multiple levels of membership in the organization?
The Institute offers three levels of membership: Complete the training and become a Member of The Institute. Then, meet the sales performance standards and be a CLHMS member. CLHMS members who demonstrate success in the million and multi-million dollar residential market can also earn recognition as members of The Million Dollar Guild.
What are some of the member benefits?
The list is too long to include here, but here are a few Institute benefits:
A FREE membership in an International property MLS and agent networking site where you can create a luxury agent profile and share your listings with real estate professionals around the world.
The opportunity to promote international builders and developer's projects on your website and collect substantial referral fees, all at no cost to you.
Information-packed Blog, special reports, and a regular luxury market newsletter
FREE monthly conference calls with other agents and special experts to explore what's working in today's market
Custom designed, high-end property brochures and other mail pieces at reasonable prices.
Tested mailing lists of the very affluent by geographic area
Advertising discounts in publications like Unique Homes and The DuPont Registry
You'll also be part of a key network of successful agents working at the top of the market
Exclusive invitation to Leaders in Luxury event for our Million Dollar Guild members.